Turkey picadillo
Probably one of my favorite savory flavors is briny and salty.
I am always asking for extra extra dirty martinis.
And even then, I don't think it's briny enough for me.
I mean, might as well just dump the entire liquid contents of an olive jar into my drink.
This is also probably why I love pickleback shots.
Have you ever had them? Lol, they are probably the wrong decision to make but they're so good.
Enough about drinking, let's talk about turkey picadillo.
I hope I don't get people coming after me for this because I know it's not traditional to use ground turkey.
I do think that the beauty of recipes is the ability to be able to tweak to your taste preferences.
Anyway, this picadillo has got everything that I love in a savory dish.
It's comforting, briny, sweet, and full of flavor.
I'm usually NEVER a raisin fan but if you find golden raisins (which of course I could not find) it would be excellent in this.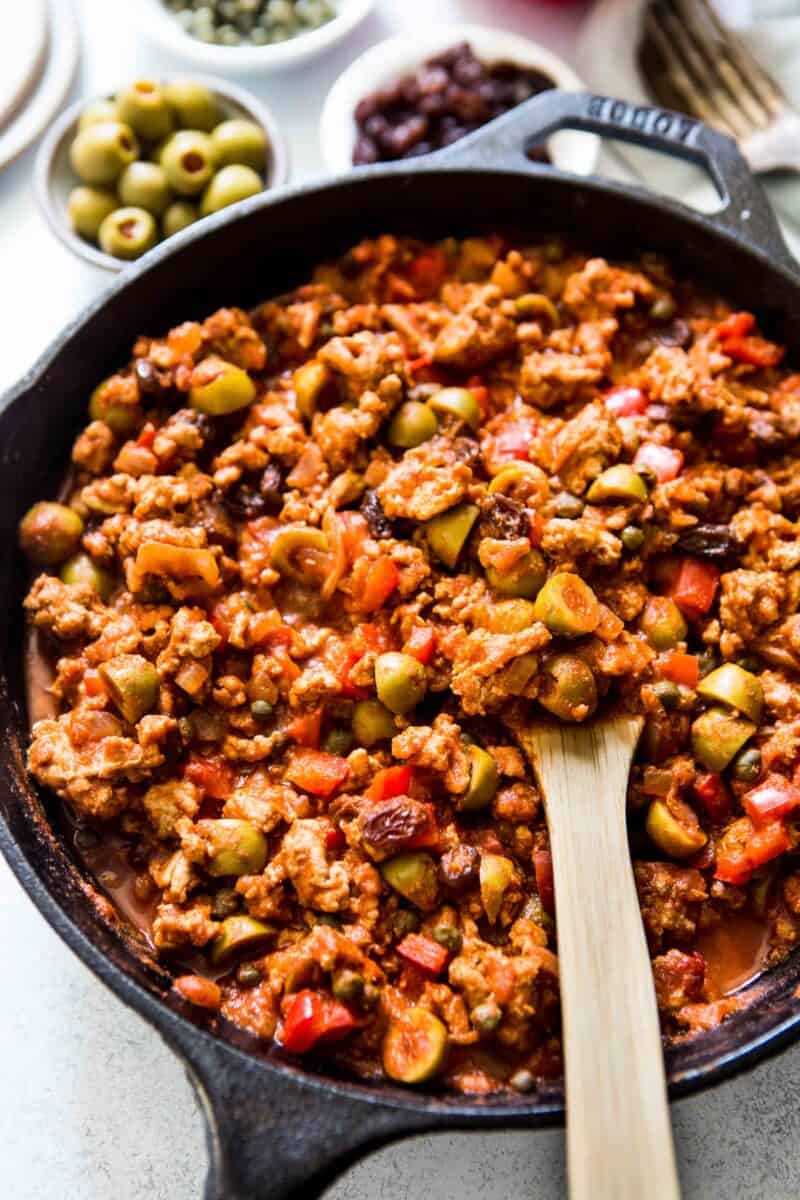 What exactly is turkey picadillo?
Well, it's actually just picadillo but I called it turkey picadillo because I used ground turkey in this instead of the traditional ground beef.
According to Wikipedia, it's a traditional dish in many Latin American countries and also the Philippines that's similar to a hash.
You can serve it with rice (which is what I did) or put it in tacos!
Save the briny liquid!
I think what makes this turkey picadillo stand out is the briny flavor from the liquid of the olives and capers.
I know it's probably easier to drain the liquid and then get out the olives and capers but just pour it all into a bowl if it's that hard to get out.
You need to save the liquid! It is what makes this dish so special!
Well, at least in my opinion because I love all things briny.
Can I substitute the manzanilla olives for black olives?
No, black olives just don't do this dish justice.
Can I omit the capers?
You can and just use more olives but capers are definitely preferred.
What if I don't like raisins?
You can omit them or try another dried fruit.
Can I use another type of ground meat?
You can use ground beef as it is how it's traditionally made but ground chicken would also work.
What do you serve turkey picadillo with?
I served it over rice.
Check out other ground turkey recipes that you may like:
Asian orange turkey lettuce wraps
Print
Turkey Picadillo
This turkey picadillo is so easy to put together and has the best flavor combinations of briny, salty, and sweet!
Ingredients
1

pound

ground turkey

1

large onion,

diced

1

red bell pepper,

diced

4

cloves

garlic,

minced

2

teaspoons

ground cumin

1

teaspoon

smoked paprika

1/2

teaspoon

cayenne

1: 15-

ounce

can tomato sauce

1/2

cup

water

2/3

cup

chopped manzanilla olives plus 1 tablespoon brine

2

tablespoons

capers plus 1 tablespoon brine

1/3

cup

golden raisins

2

bay leaves

Salt, to taste
Instructions
In a large skillet over medium high heat, add a little cooking oil. Brown and break up ground turkey. Add in the onions, bell pepper, and garlic and cook until soft and fragrant, about 5 minutes.

Add the cumin, paprika, and cayenne. Stir to incorporate.

Add the tomato sauce, water, olives, capers, brine, golden raisins, and bay leaves. Stir.

Bring the mixture to a boil then reduce to a simmer and let simmer for 10-15 minutes.

Season with salt, to taste.

Serve over rice and enjoy!