Do you follow a plant based diet, in addition to eating gluten free? Or do you eat meat, but avoid eggs and dairy due to food allergies? I recently tried multiple recipes from Sarah Nevins' new cookbook, Effortless Vegan, and love it!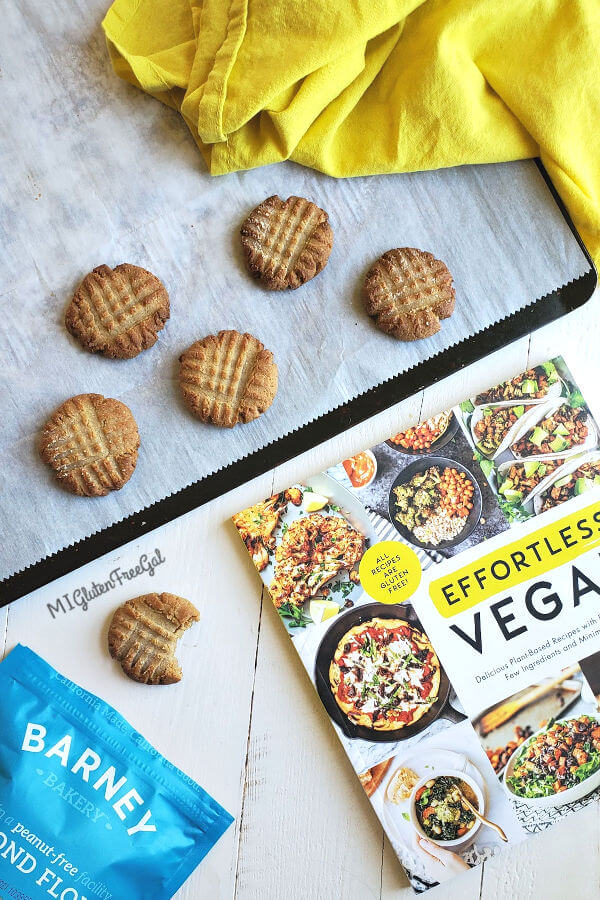 Effortless Vegan and A Saucy Kitchen
I've long loved the recipes from Sarah Nevins. As the creator of the website, A Saucy Kitchen, I've been making her Gluten Free Dutch Baby and her Tomato Coconut Curry Chicken. I've also used my Gluten Free Peanut Butter Bread to make her Gluten Free French Toast.  I often share her quick cooking videos on Facebook, because she makes everything look so good!
Therefore, I'm thankful that I have her recipes within arm's reach, without the need for a screen. I've tried many of the recipes, and many more I look forward to making. The Ginger Molasses Cookies, above, are part of her "5 Ingredient Sweets" section.  The Sweet Potato Spinch Curry below may be my new favorite meal. It pairs well with these gluten free baked tortilla samosas.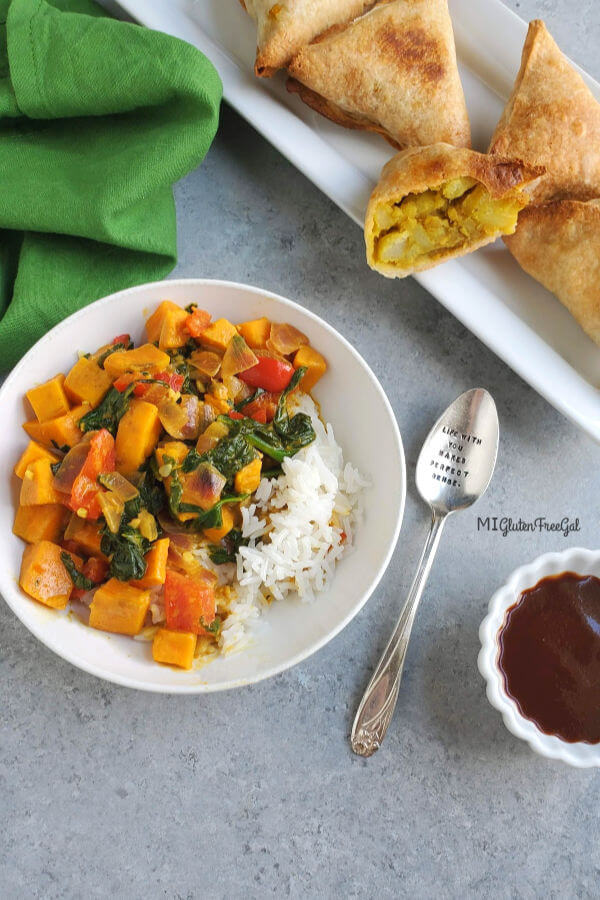 Why This Meat Eater Loves This Cookbook
When Sarah Nevins reached out to see if I'd review her cookbook, I was at first unsure. I consume eggs and dairy, and I eat meat. I wanted to make sure I was a good audience for this book. After reading the introduction, I was hooked. See, Sarah changed her diet, after her husband was diagnosed with Celiac Disease, just like my husband did for me. I appreciate those who are willing to change their diets to accommodate those they love.
Also, the following quote from her intro struck me. "I used to think that I didn't like sweet potato or cauliflower. Turns out I just needed to find out the right way to cook it." As a kid, I hated onions, asparagus and green peppers. Forget tofu. But once someone showed me how to cook it correctly, a whole new world of food opened up to me. She truly speaks my language.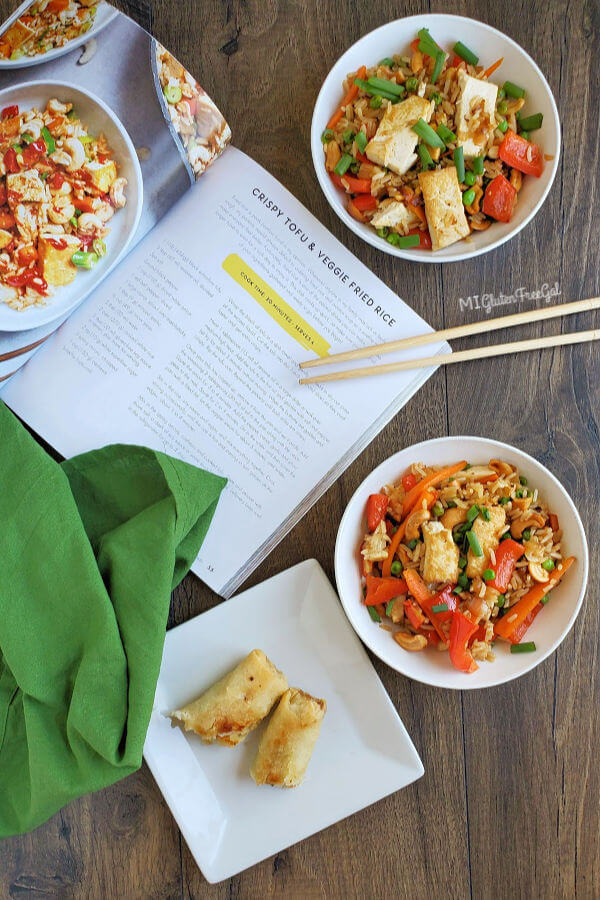 What You'll Find Inside Effortless Vegan
This cookbook contains 75 different recipes, from breakfast to dessert. Need dinner on the table in 30 minutes? There's a section just for that. Tired of doing dishes? She devotes an entire section to "One Pot Wonder" meals, including Black Bean Enchilada Quinoa. Her 15 minute Tomato Soup recipe even won over my "I hate tomato soup" – husband.
You'll also find recipes made from simple ingredients. While one recipe calls for jackfruit, which is a bit unique, other recipes use a variety of beans as a protein source. Some call for tofu, and some recipes use nutritional yeast as a cheese replacement. Otherwise, you likely have many of the ingredients already in your fridge or pantry.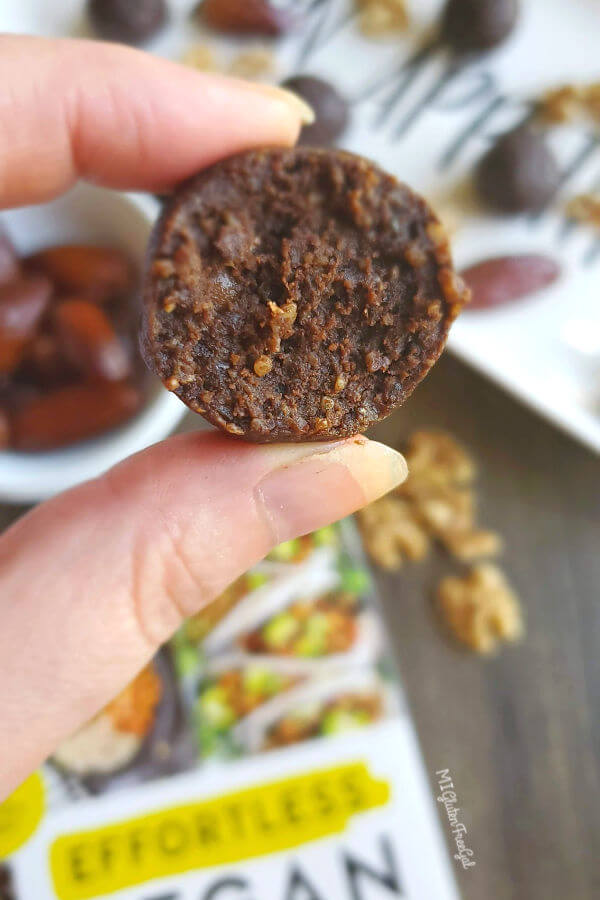 Oat Free Date & Walnut Brownie Bites
I will clarify that many of the recipes in Effortless Vegan do contain nuts. If you or a family member live with an peanut or tree nut allergy, this book may noy be for you. However, I love that this cookbook encouraged me to use nuts in cooking in ways I hadn't, before. Cashews on stir fry? Mind blown.
For example, I immediately became excited when I saw her Brownie Bites recipe I cannot tolerate oats, and every "bite" or "ball" recipe I've ever seen, contains oats. Not this one! These balls require only 5 ingredients, and come together easily in a food processor. I love this recipe so much, I asked Sarah if I could share it here. She said yes! I'm sure you'll love them.
Sarah Nevins
Yields Makes 10-12 balls
Date & Walnut Brownie Bites
Ingredients
12 medjool dates, pits removed
1/4 (62 g) peanut butter or nut butter of your choice
1 cup (118 g) raw walnuts
1/4 (22g) unsweetened cocoa powder
Pinch of sea salt
Instructions
Add the dates, peanut butter, walnuts cocoa powder and salt together in a food processor or a high-speed blender. Blend until the mixture is completely smooth or leave a few sandy chunks for a little added texture.
Transfer the mixture to a bowl for easier scooping. Scoop out heaping spoonfuls of the brownie mixture and roll into little balls. You should end up with 10-12 balls. (I think I acutally had 13.)
Keep these stored in the fridge in an airtight container and enjoy within 2 weeks. (These were a life saver after my root canal! Soft, yet firm.)
Notes
TIP: If your medjool dates are a little dry, cover and soak them in warm water for at least 20 minutes before blending. . Recipe from Effortless Vegan cookbook.
7.8.1.2
141
https://miglutenfreegal.com/2020/07/15/effortless-vegan-cookbook-review/
You can order Effortless Vegan thru Amazon, and it's even available on Kindle. (**Affiliate links.) Or, support a Michigan, indepedent-owned business, and order it from Blackstone Bookstore in Detroit. Want it today? Check the Barnes and Noble website to see if it's available at a local store. Also check out my list of other gluten free cookbooks to try.
**Sarah Nevins and her publisher provided this copy to me, free of charge. There is an Amazon affiliate link for the cookbook, through which I make a small advertising commission, but it does not impact your cost.**
The post Effortless Vegan : Cookbook Review appeared first on MI Gluten Free Gal.
My article contains affiliate links. All products are ones I recommend. If you choose to purchase one of these items through the link provided, I will receive a small commission at no extra cost to you. All proceeds help support the blog.