Pesto is an excellent way to add flavor to meals. Because it is often a bit expensive, here are a few tips for using it all up in a variety of tasty summer dishes.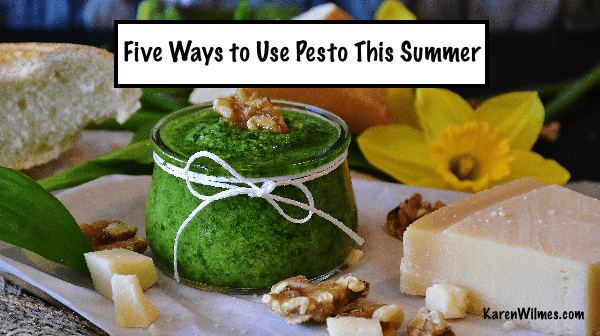 Cooking with Pesto
I love cooking with Pesto because it is in my opinion, delicious – be it basil, sun-dried tomato, mint, or otherwise. Basil pesto, in particular, is an excellent complement to many foods and is even very easy to make at home (mix in a processor two cups packed basil, one clove of garlic, four teaspoons olive oil, a half cup of grated Parmesan cheese, and a handful of walnuts or sunflower seeds).  If you want to grow your own basil make sure you read my tips for growing basil.
Store-bought versions can get pricey, though, and there is no sense in letting this delicious spread or dip go to waste. Here are some tasty ways to incorporate pesto into more meals than just a dip with bread.
Pesto and Pizza
For home-made French bread pizza, or on ready-made pizza dough, spread a thin layer of pesto before adding shredded mozzarella and cheddar, thinly sliced tomatoes, and chopped onions. Add any thinly sliced or chunked meat to make the pizza more filling.  Use a pizza stone for a nice crispy crust!
Turkey Sandwich with Pesto
On whole wheat or multi-grain bread, spread both slices with a thin layer of pesto. Layer bottom piece with the deli meat of your choice (basil pesto is excellent with chicken and turkey breast), a slice of swiss cheese, and a variety of vegetables (consider adding sprouts, cucumbers, onions, or grilled mushrooms and red peppers in addition to the typical lettuce and tomato). A bit of mayo or cream cheese can also be added to give the sandwich a richer flavor.
Pesto and Pasta
Replace the cream or oil-based sauce in your favorite pasta dish with pesto. Add a few tablespoons of pesto to the pasta while it is still warm, mixing it in with the vegetables and/or meat. If the pesto is too thick, thin it out with olive oil as needed.
Vegetables with Pesto Sauce
One wonderful thing about summer is the easy way to prepare vegetables – on the grill. Grill up some asparagus, onions, zucchini, and other veggies and toss in pesto sauce with a little extra olive oil before serving. This works just as well with baked or fried vegetables when the weather isn't ideal for grilling. Season with salt and pepper.
Grilled Chicken with Pesto
Rub chicken breasts with the pesto so that they are well coated and grill as usual. Shortly before the chicken is finished, top with shredded cheese and tomato slices. Serve with a side salad or corn on the cob and potato salad.
Pesto, whether store-bought or home-made, is a versatile (and healthy) dish that can be quickly used as a spread, dip, condiment, or sauce. Experiment by using pesto in other ways as well – it can be an excellent addition to many other summer favorites, including grilled fish, golden corn, and cold pasta salads.
Want more ways for cooking with pesto? Read about these 8 ways you can use pesto too!
The post Five Ways to Use Pesto This Summer appeared first on Koupon Karen.
**Disclaimer – This article contains affiliate links. All products are ones I recommend. If you choose to purchase one of these items through the URL , I will receive a small commission at no extra cost to you.