International Sauvignon Blanc Day was May 1st.  You did remember to celebrate, didn't you?  I did.  And as usual, one bottle was not enough.
Many people first became enamoured with sauvignon blanc many years ago after becoming tired of the ubiquitous buttery, rich over-oaked chardonnays which were all too common at the time.  Sauvignon blanc offered much drier, crisper, and food-friendly wines. Wine writer Karen MacNeil said, "If chardonnay is Marilyn Monroe, sauvignon blanc is Jamie Lee Curtis".  Makes sense to me.
The 'anything but chardonnay' (ABC) movement arose after 20 years of new-world styled chardonnay saw the quality drop after excessive demand resulted in poorer quality wine.   By the mid to late 90s, people were tired of over-manufactured wine and eager for something drier and refreshing.
First, a little background on sauvignon blanc.  Some have described it as an adult version of lemonade.  It is a white grape known to be crisp and fresh with racy acidity that makes it a versatile food wine.  Sauvignon blanc is light-bodied to medium-bodied, dry, aromatic, and distinctive.
Sauvignon blanc is usually light-bodied and dry with high acidity which means it is thirst-quenching and refreshing.  Lower alcohol levels add to its appeal. Aromas and flavours can include, fresh-cut grass, gooseberry, honeydew melon, grapefruit, white peach, passion fruit, and lime.  Typically, sauvignon blanc is imbued with herbaceous, green grass, gooseberry, and even asparagus character.
With this grape, wine production is routine and needs little intervention, as it has a bold personality.  However, if not properly managed in the vineyard, it can produce uninteresting, thin, vegetative wines.  Sometimes/often it shows herbaceous flavours due to the presence of methoxypyrazines a chemical compound also found in green peppers.
What qualities it exhibits are based on several factors including location, growing conditions, and vineyard practices.  When the tonnage is high, the quality will be lower and when the canopy (leaf cover) is improperly managed, some less pleasant qualities can dominate – green bell pepper, asparagus, grassiness, olive, bramble stems, and herbs.  Sauvignon blanc is early to ripen. Ideally, it likes sunshine, but not too much, and long, cool nights. The grape likes stony soils and limestone-rich vineyards such as found in the Sancerre and Pouilly-Fumé areas of the Loire Valley.
Like most wines, sauvignon blanc can be made into bland, generic white wines that are mostly forgettable or it can be made into brisk, refreshing wines with distinctive character, purity, and elegance.
France is the largest producer of sauvignon blanc and it is the third most widely planted white variety behind ugni blanc and chardonnay.  Languedoc-Roussillon, in southern France, is the leading area in France for sauvignon blanc followed by the Loire Valley and Bordeaux, where it is usually blended with semillon.  While sauvignon blanc is usually made as a single variety. semillon is sometimes added, especially in the case of white Bordeaux wines and the sweet Sauternes dessert wines.  The two grapes are very well suited to each other.
In the Loire, it is found in the Central region and Touraine. Here, the wine is lean and crisp with herbal, minerality, and smoky notes.  Look for Sancerre and Pouilly-Fumé when shopping.
In California, during the 1970s, Robert Mondavi aged sauvignon blanc in oak barrels and coined the new style, Fumé Blanc.
While the Loire style of sauvignon blanc is considered the standard for the grape, the New Zealand style shows more tropical fruit, and often a touch of residual sugar.  Look for notes of gooseberry, passionfruit, kiwi, jasmine, pear, and grassiness. This new-world, southern hemisphere style has established itself as the other side of the sauvignon blanc coin.
Now the number one wine exported from New Zealand, sauvignon blanc comprises over 80% of sales, making it the number two producer of this grape in the world followed by The Republic of Moldova, Chile, and Australia.  Marlborough, on the northern part of the southern island, is the main region for sauvignon blanc. Cloudy Bay is its best-known example. While better French examples show elegance, New Zealand is known for its pizzazz.
To toast International Sauvignon Blanc Day, I started with one from France.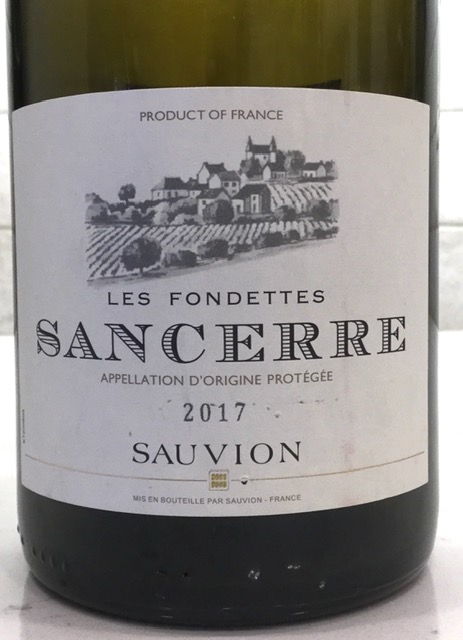 2017 Sancerre (Sauvignon Blanc)
Les Fondettes
Sancerre, France
$26.07
The colour is pale straw with medium-minus intensity.  The nose is attractive with aromas of lime, melon and passionfruit with honey undertones.  Well balanced. The flavours reflect the nose followed by a medium-plus finish.
And then followed it with a New Zealand example.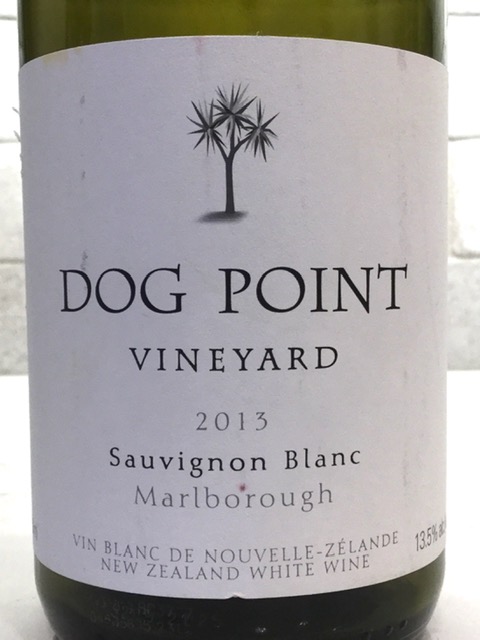 2013 Sauvignon Blanc
Dog Point
Marlborough, New Zealand
$32.49
Pale straw in colour with medium-light intensity.  A classic nose showing aromas of grass, lime, grapefruit pith, minerality, and a hint of gooseberry.  Good balance. Clean and refreshing on the palate followed by a medium finish.  If you are a fan of grassy Sauvignon Blanc, this is one for you.
For the most part, sauvignon blanc wines are designed to be drunk when they are young rather than being cellared, though better Bordeaux examples can improve with a few years in the cellar.  These wines are best when served chilled, but not icy cold which will make them closed and uninteresting.  They are perfect for a refreshing drink on a hot afternoon or to serve as an aperitif along with appetizers.  Acidic wines are a great match for salty foods.  Also serve it with herbed dishes and salty cheeses. For dinner, pair with white meats, fish, or seafood (particularly shellfish).  They also go well with spicy Asian foods and vegetarian dishes – even salads.  When cooking with wine, sauvignon blanc is a good option.  It is relatively inexpensive, but its fresh, light herbal notes work well with a wide range of foods.
Serve in an all-purpose white wine glass.  Cheers!
Read International Sauvignon Blanc Day was May 1st – Did you celebrate? at MyVanCity
This post often contains affiliate links. All products are ones I like. If you choose to buy one of these items through the URL , I will receive a small commission at no extra cost to you. All proceeds help support the blog.