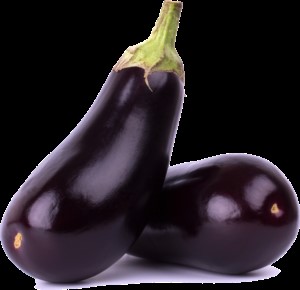 Each issue of Vegan Journal, Chef Nancy Berkoff pens the Vegan Cooking Tips column. One of her columns focused on eggplant. She offers a variety of ways to prepare eggplant including:
Roast an eggplant whole, in the oven or on the grill, until soft enough to mash with a fork. Scoop out pulp and add oil and vinegar, garlic, and black pepper to use as a dip or salad dressing. This dish is sometimes called "eggplant caviar."
For homemade baba ganoush, purée roasted eggplant and mix with garlic, tahini (sesame paste), lemon juice, chopped parsley, and olive oil. Use it as a dip for vegetables or as a sandwich filling.
Mix diced, grilled eggplant with grilled peppers,lentils, onions, and garlic. Serve cold, topped with balsamic vinaigrette, or hot, atop grains, pasta, or pizza.
Skip-the-Frying Baked Eggplant: Peel eggplant and cut into ½-inch slices. Create a breading with your favorite crumbs (bread, cornmeal, etc.) and dried Italian herbs (garlic powder, oregano, parsley, red pepper flakes, etc.). Spray eggplant slices with vegetable oil, coat with breading, place on non-stick pan, and bake until soft. Layer baked eggplant into a deep baking dish, alternating layers with thick tomato sauce; drained, diced, canned tomatoes; sliced mushrooms (if desired); and either shredded vegan cheese or thinly sliced extra-firm tofu. Cover and bake until bubbly.
Mini Japanese or Thai eggplant stuffed with a mixture of diced smoked tofu, tempeh, or veggie crumbles; pine nuts; and roasted peppers. Wrap in foil and bake.
Make Eggplant Frisbees: Preheat oven to 375 degrees. Place slices of unpeeled eggplant (about ½-inch thick) individually on a non-stick baking sheet. Sprinkle with grated vegan cheese, minced onions, sunflower seeds, and nutritional yeast. Bake until bubbly and the eggplant is slightly soft. The Frisbees may also be used as eggplant burgers served on a hearty roll with fixins.
Find the complete article here: https://www.vrg.org/journal/vj2021issue4/2021_issue4_cooking_tips.php
Subscribe to Vegan Journal in the USA only by visiting https://www.vrg.org/member/2013sv.php