This post is a collaboration with Beef. It's What's For Dinner. on behalf of the Beef Checkoff. I received compensation, but all opinions are my own.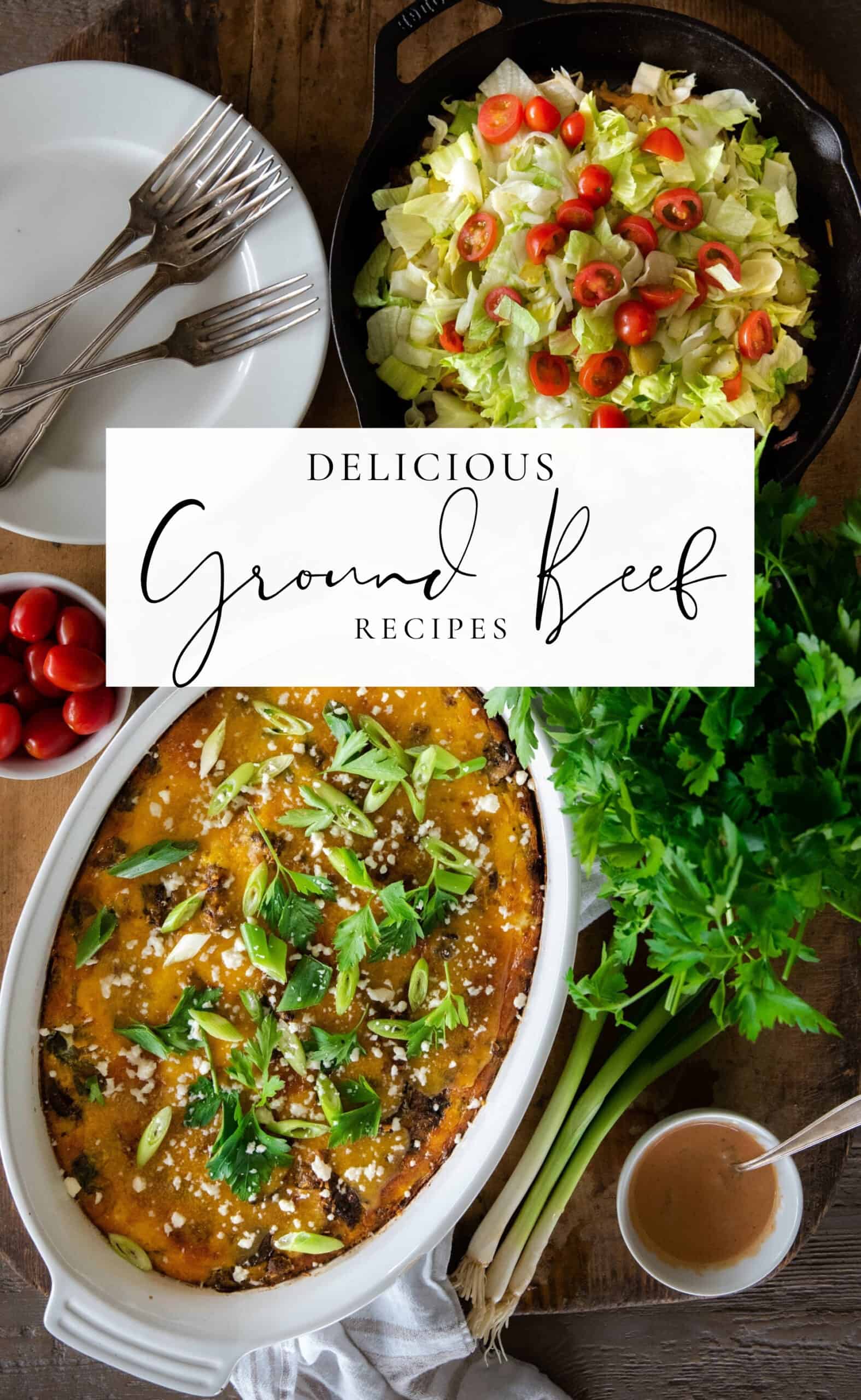 Two of My Favorite Ground Beef Recipes
If you're anything like me, you are finding yourself in the kitchen now more than ever! Today I want to share two quick and delicious Ground Beef recipes with you that I think you're going to love! 
Ground Beef is one of my favorite refrigerator (and freezer) staples! It is budget friendly and can be used for breakfast, lunch, or dinner. It's also the perfect protein for appetizers – I use it in my game-day dip and game day bite-size tacos too! I love using Ground Beef whenever I need to whip up a quick meal. 
I also love that Ground Beef is flavorful enough to satisfy my husband's tastes, and is also low-carb, and high-protein which satisfies my tastes! It's a win-win! :) 
I am sharing these two recipes together because they have a similar ingredients list and can be made at the same time, saving you time in the kitchen. I have been making these almost every week because it's so easy to meal plan them together to maximize our groceries.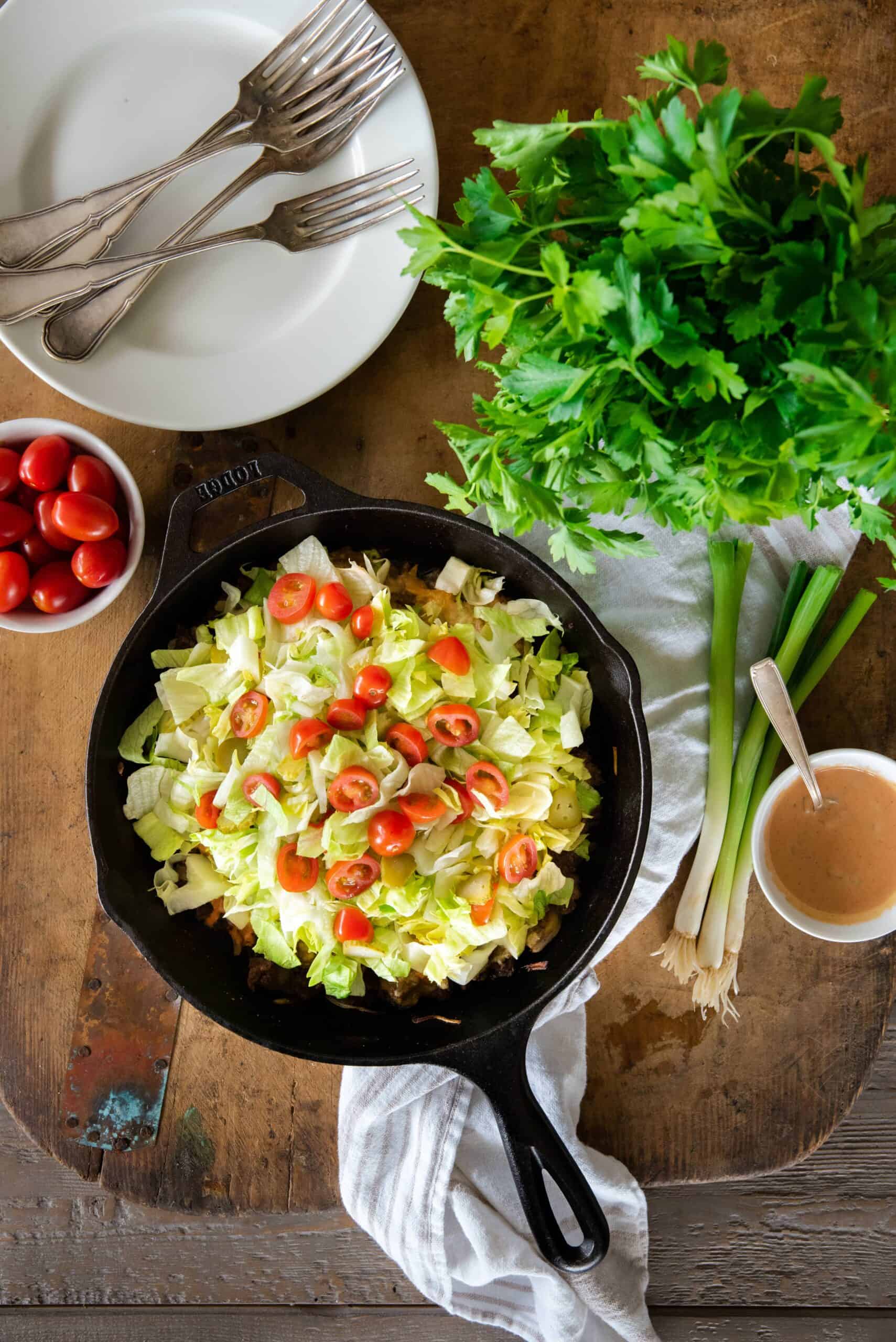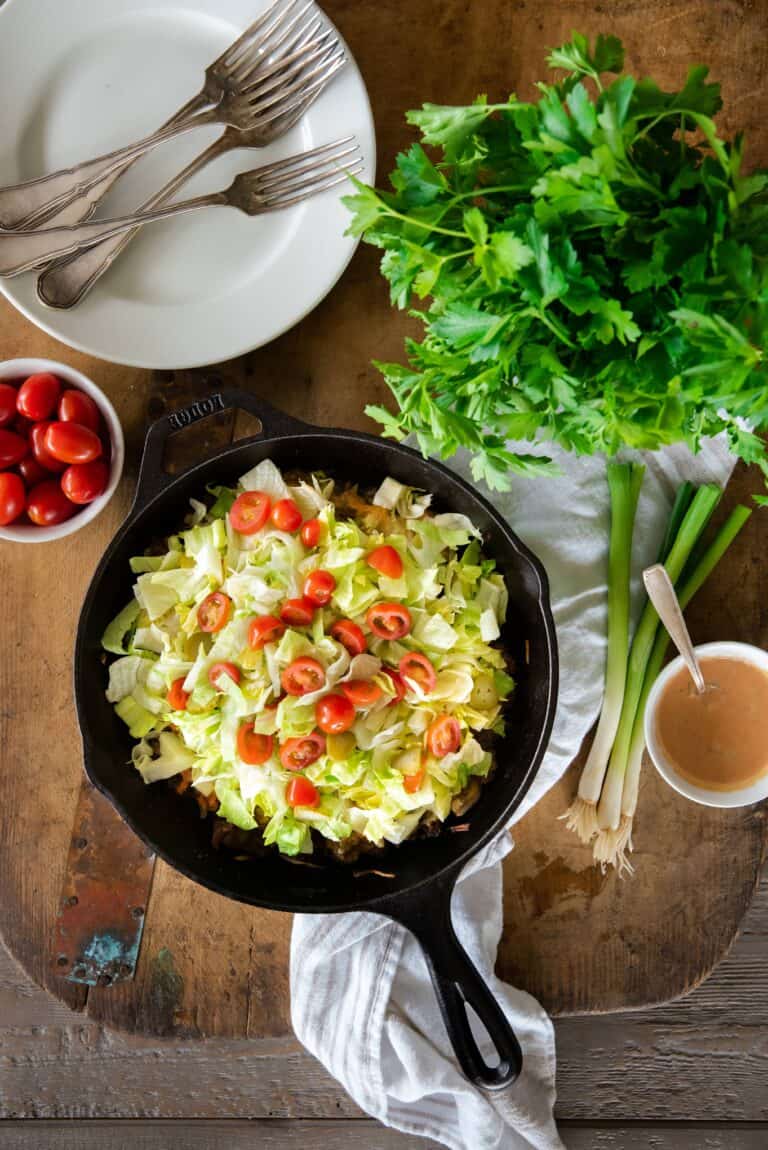 ---
---
The first recipe: Ground Beef Egg Bake, is a great breakfast or lunch option that can be made ahead of time and last throughout the week! I started making this recipe years ago when my husband commuted back and forth from Reno to the ranch.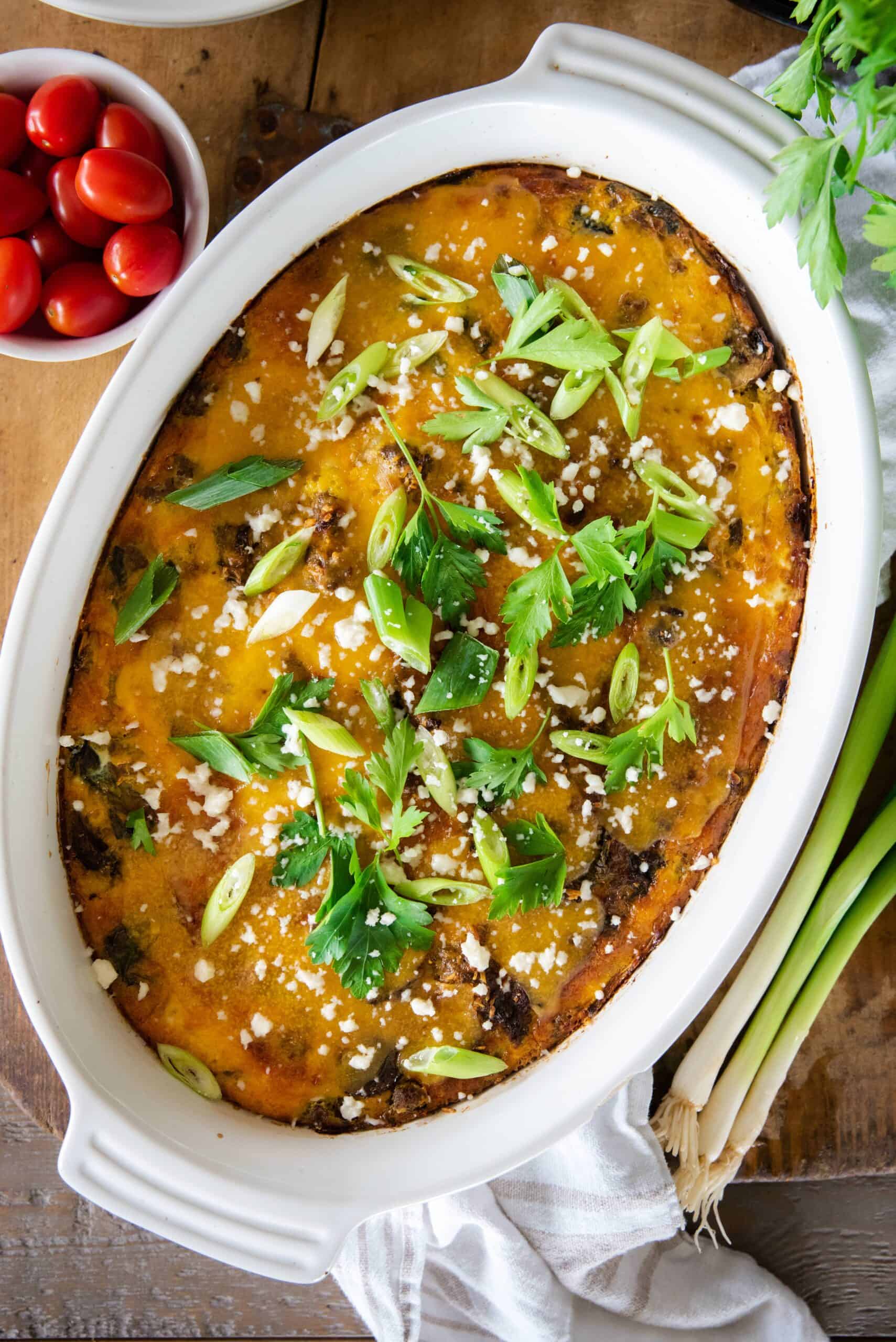 I made this rain or shine every Sunday for nearly two years! He'd take it with him for breakfast throughout the work week. Over the years the "egg bake" became the standing joke among friends – everyone knew I wouldn't be able to go out to dinner or stay out late on a Sunday night because I had to get home to make the egg bake!  
I started making this dish initially to be a  high-protein, crustless quiche type dish. It's so easy to make ahead of time, and then have as a quick grab-and-go breakfast option. 
This recipe is a great option for using up vegetables or making the most of freezer veggies! 
I've included mushrooms, spinach, and onions as the vegetable in this recipe, but any vegetable can be used! If you can't find mushrooms, or just don't like mushrooms, you can use broccoli, asparagus, tomatoes, or bell peppers. 
This is such a great base recipe that can be adapted to fit your family's taste preferences. If you enjoy more of a Mexican style egg dish, try using jalapenos, chili powder, bell peppers, and pepperjack cheese. 
For more of an Italian style dish, use tomatoes, asparagus, herbs, and add in some parmesan cheese! You can really mix and match the ingredients here to make it your own!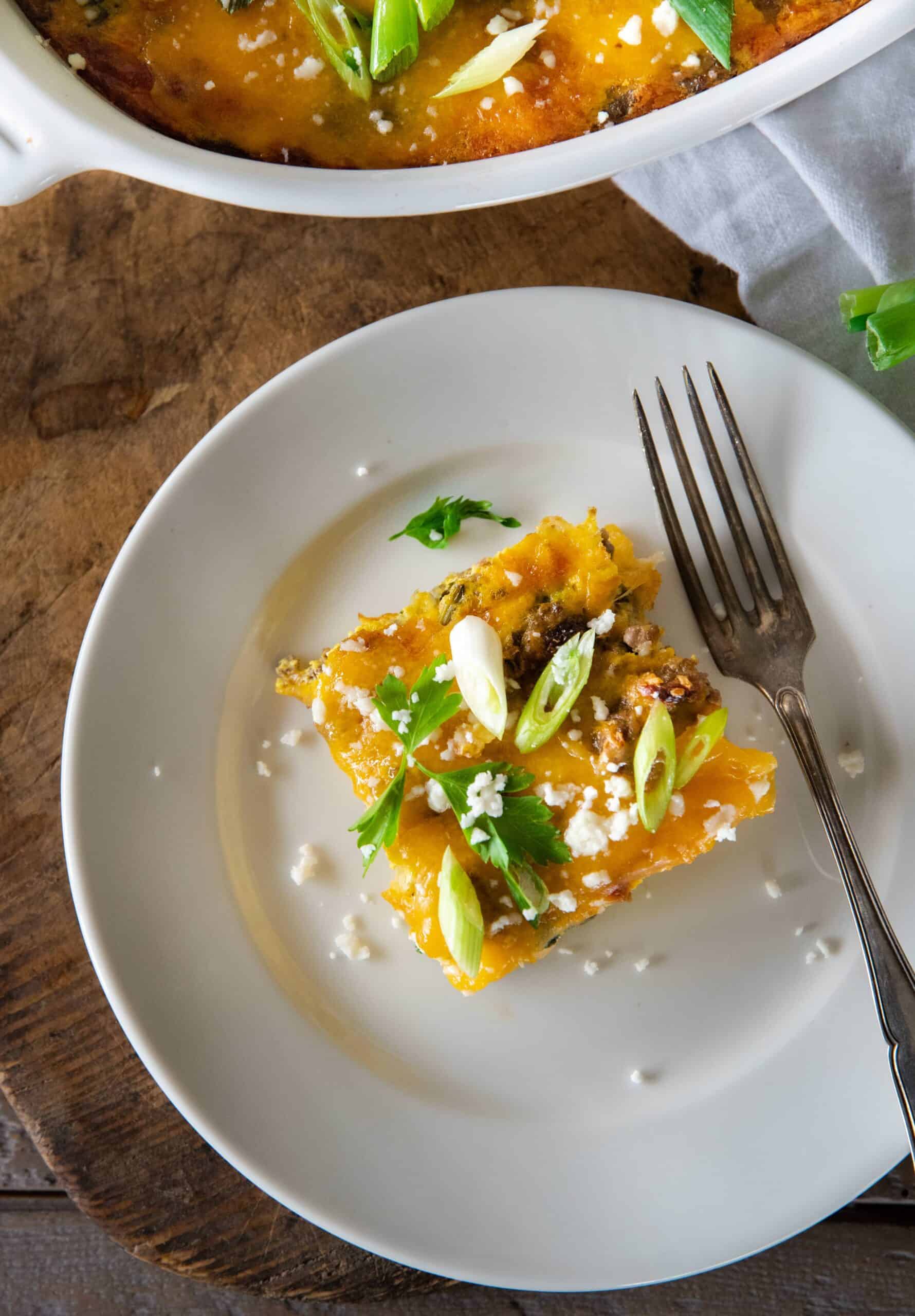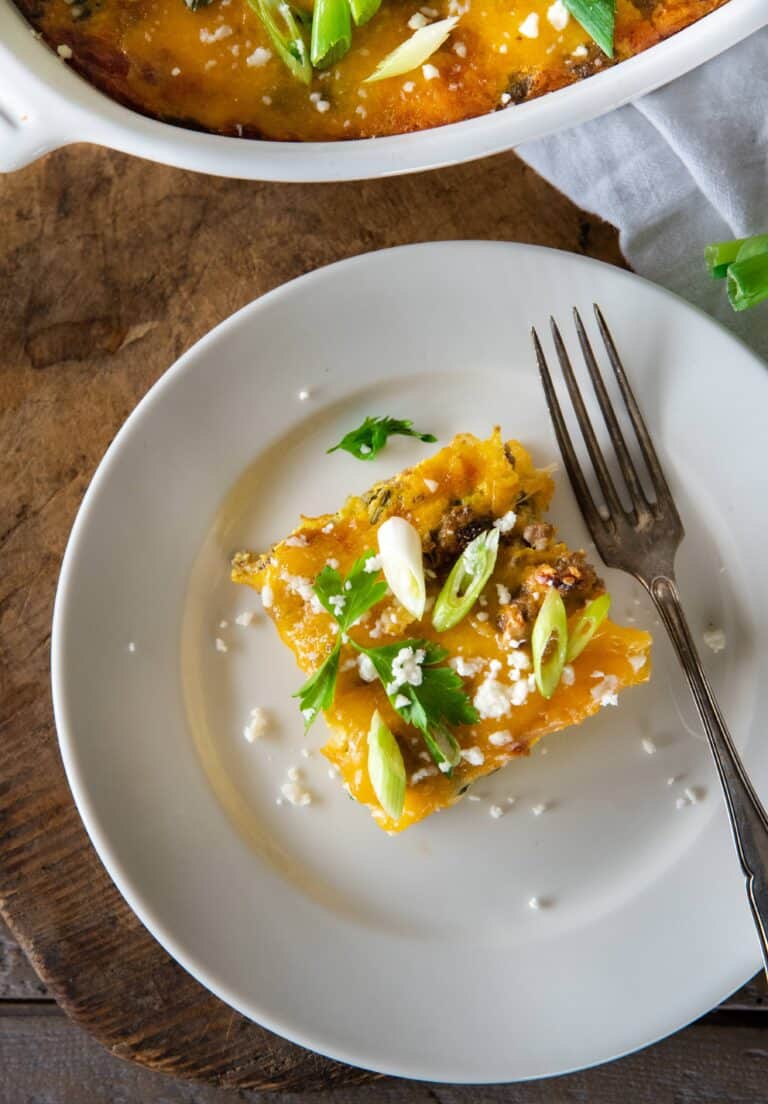 Ground Beef Egg Bake Combination Ideas:
Mushrooms + Spinach + Onions
Tomatoes + Asparagus + Mozzarella 
Bell Peppers + Jalapenos + Pepper Jack 
Broccoli + Cheddar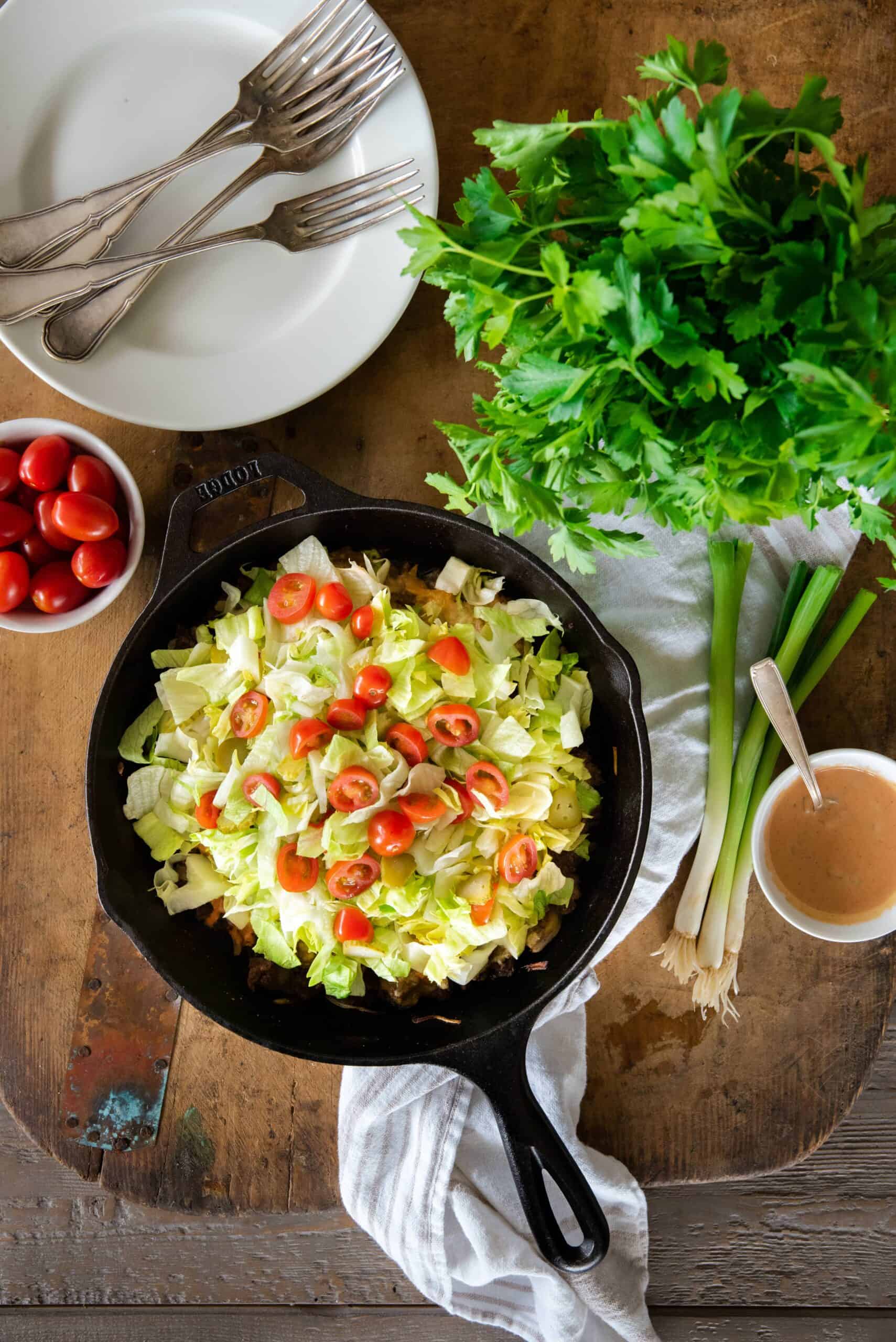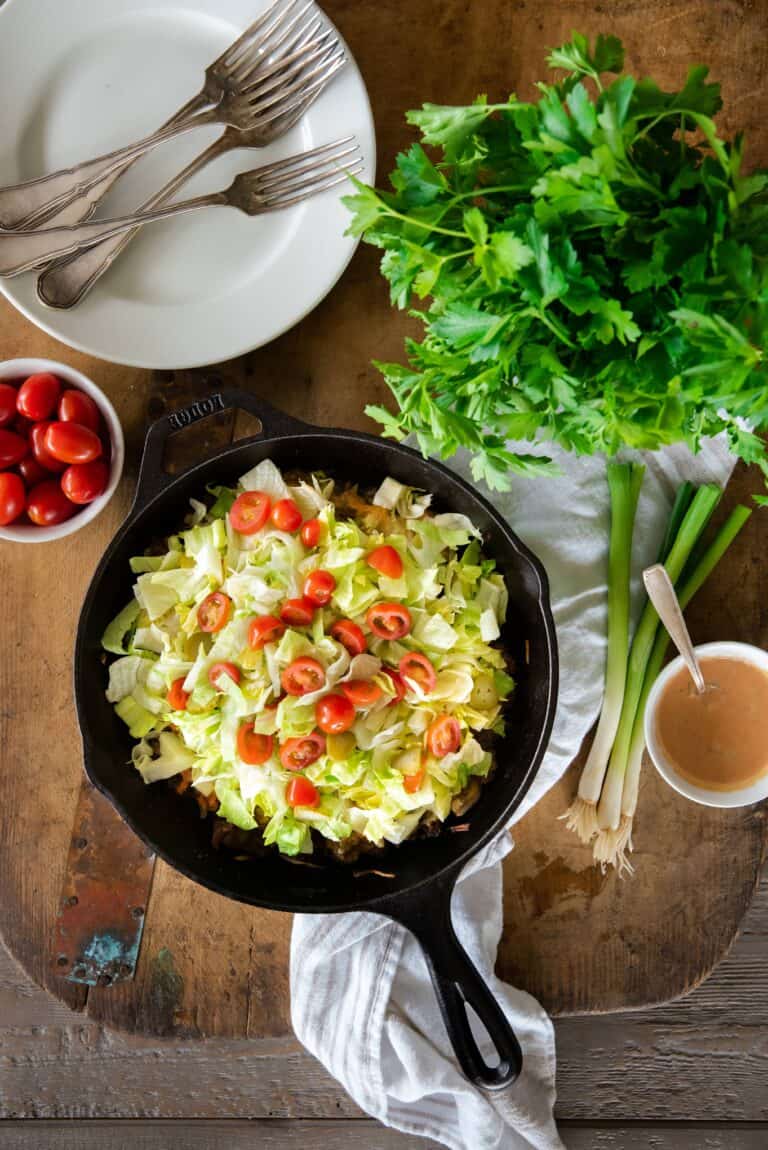 The second recipe: Burger House Skillet is a new one for our family, and I have to say, it's one of my favorites! 
This cheeseburger casserole is so flavorful and an excellent option for picky eaters! I have mentioned before finding a recipe that satisfies me and my husband can be tough! 
This is one of those make-every-week winners that we both love!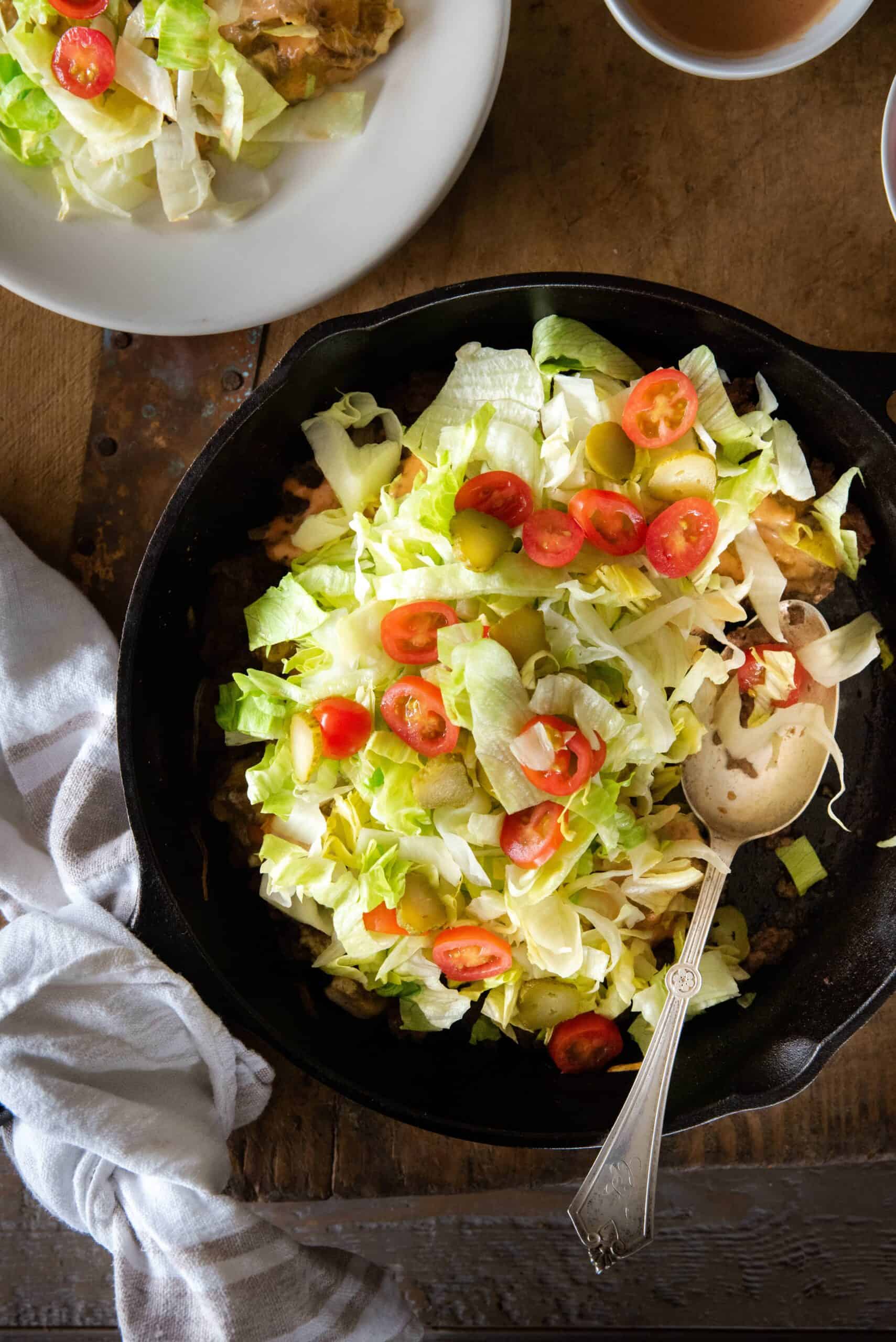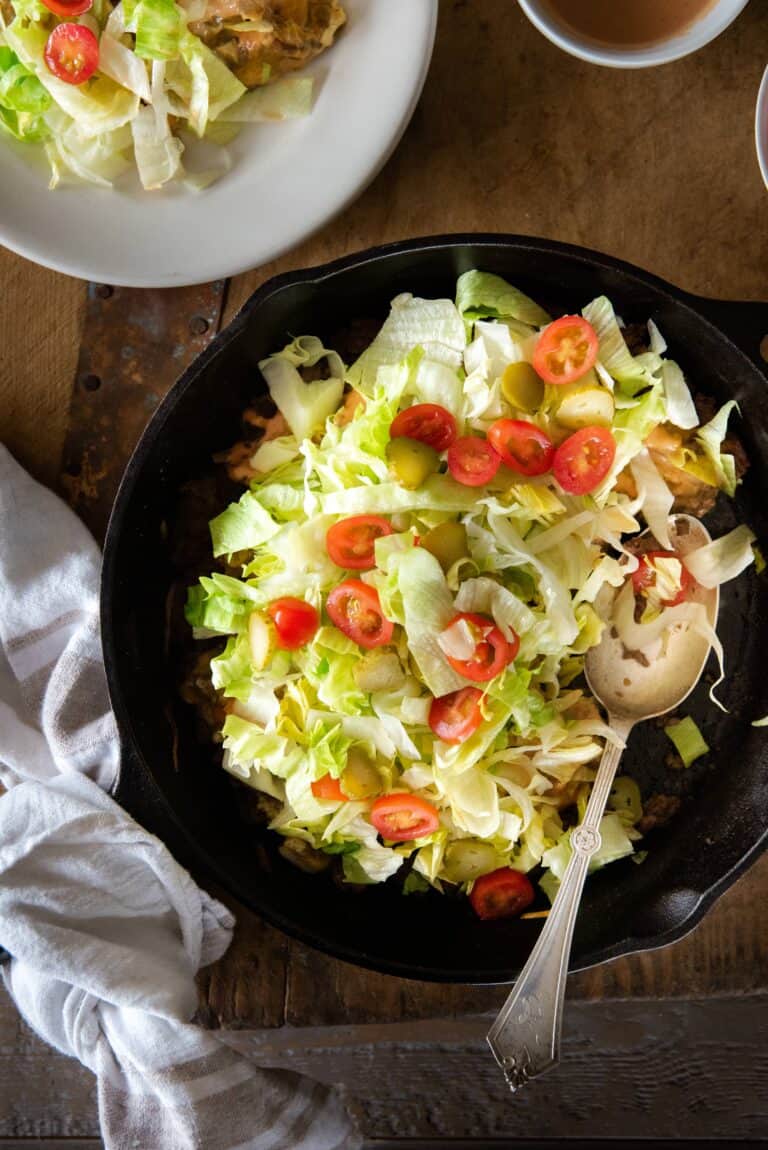 The burger house skillet is made using your cheeseburger favorites:
flavorful Ground Beef 
sliced cheese: use any cheese you like!
caramelized onions and mushrooms
burger sauce: the cherry on top of this recipe! 
Finished off with lettuce, pickles, and tomatoes! 
This is another recipe that can be tweaked to fit your family's tastes. If you don't love mushrooms, skip them! Love pickles? Add extra! Want to spice things up? Add some jalapenos and use pepper jack cheese! 
I'm not typically much of a sauce lover, but man-o-man this sauce is delicious! The perfect combination of the best burger sauces in one delicious bite!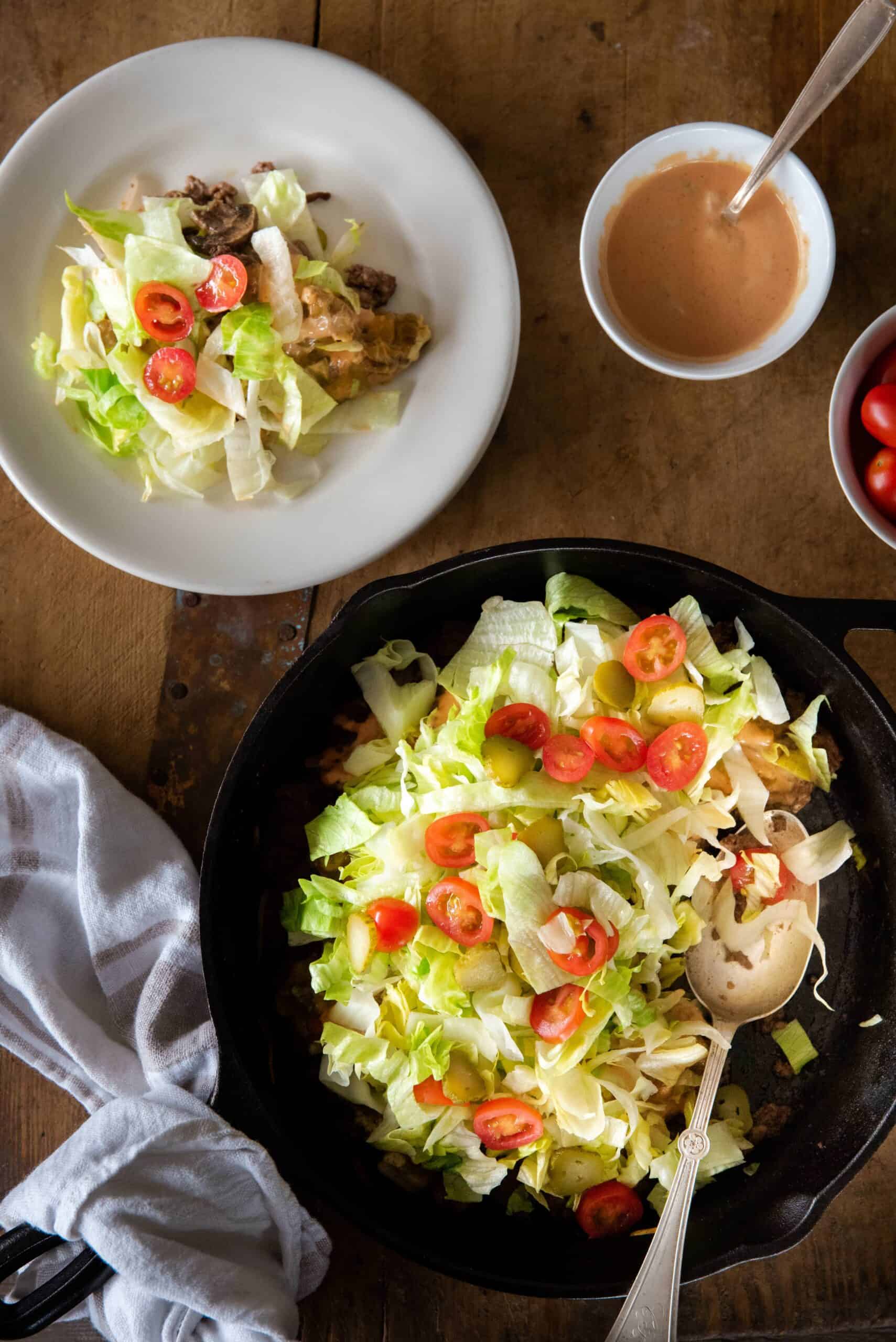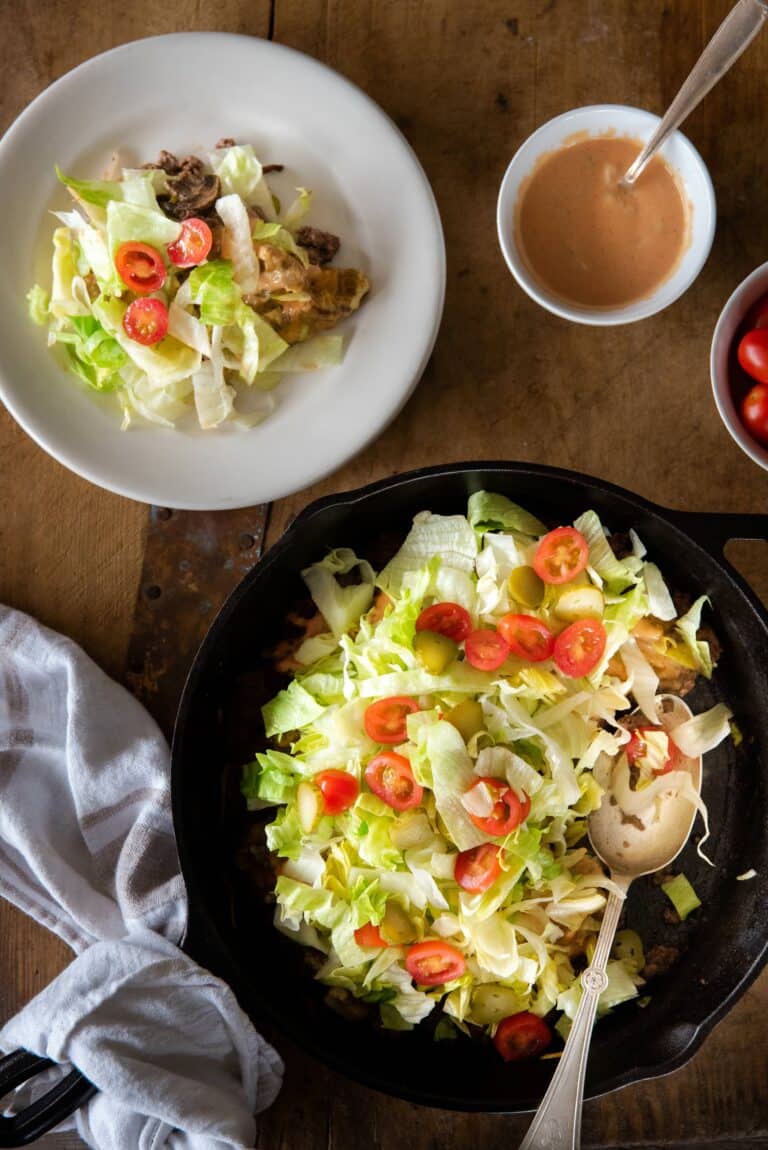 This is a super simple recipe that only takes about 15 minutes to put together: 
Brown the beef and sauté the mushrooms & onions. 
Top with cheese, and broil for a few minutes. 
Finish with your favorite cheeseburger toppings! 
I hope that you enjoy these recipes and find them helpful as we spend more time in the kitchen and find ways to get creative with new recipes. I'd love to hear some of your favorite Ground Beef recipes! Let me know in the comments section! 
For more beef recipes, visit BeefItsWhatsForDinner.com!
Yield: 8-10
Ground Beef Egg Bake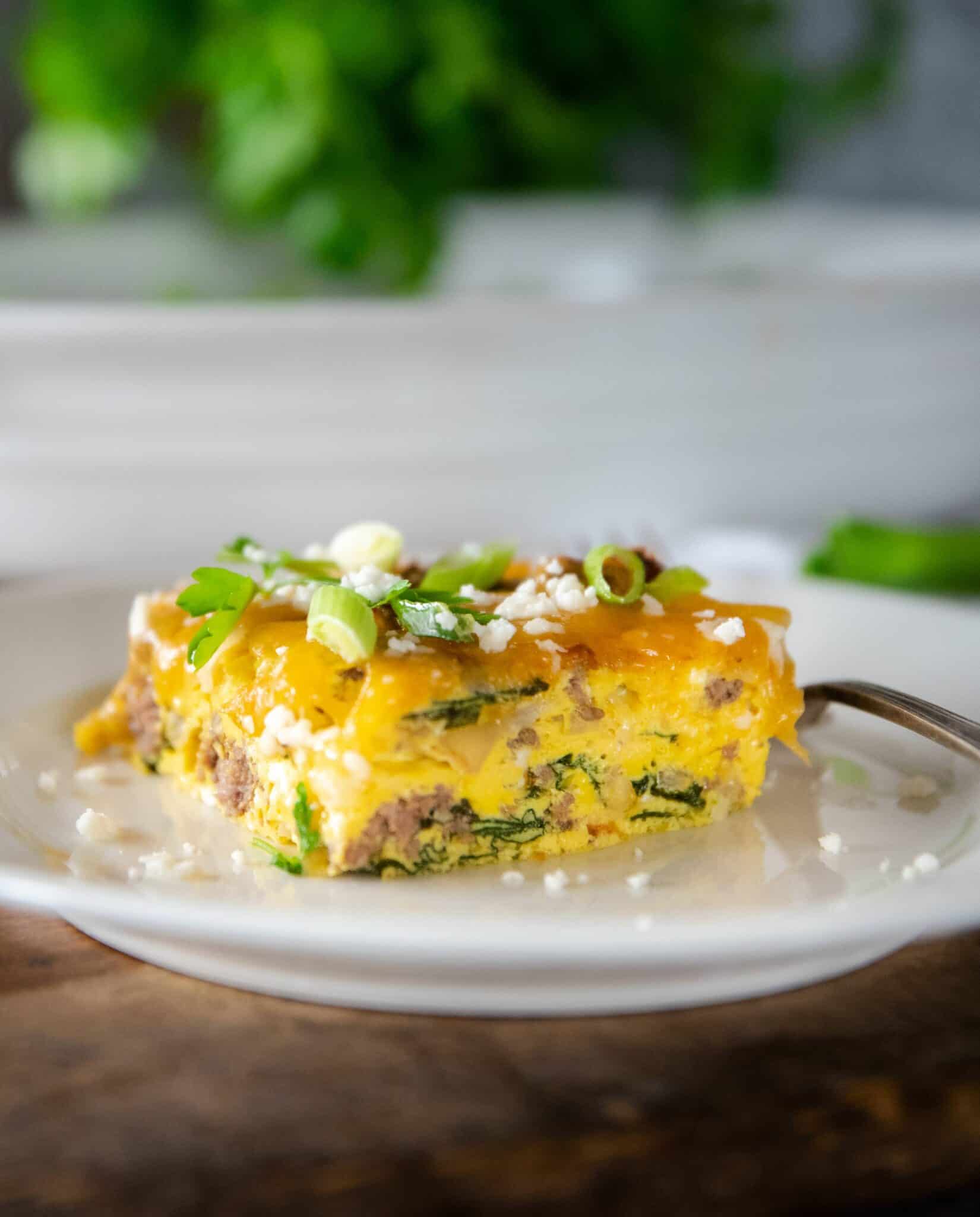 Ingredients
1 lb Ground Beef
½ white onion, thinly sliced
1 cup mushrooms, sliced 
3 cups baby spinach leaves
1/2 teaspoon Paprika 
1 teaspoon Garlic powder
1 dozen eggs
1 ½  cups + ½ cup shredded cheese of choice 
½ cup half & half or milk 
Salt & pepper to taste 
Hot Sauce (optional)
Instructions
Preheat oven to 350 F

Step 1: Heat a large frying pan over medium heat, add Ground Beef, and using a spatula, break up the beef into small bits. Cook for 1-2 minutes undisturbed, letting the beef brown up on the bottom. Season with salt, pepper, paprika, garlic powder, and chili powder if desired.

Step 2: Reduce the heat to medium: add sliced onion, mushrooms, spinach, and any other vegetables you'd like. Use the spatula to break the beef into smaller pieces and sauté until the onions are soft, spinach has wilted, and beef is cooked through - about 5 minutes. Drain off any fat that has accumulated. Turn off the heat and set aside to cool slightly.

Step 3: While the meat and vegetables rest, prepare the egg mixture. In a large mixing bowl, vigorously whisk together eggs, milk, 1 ½ cups cheese, salt & pepper, and hot sauce if desired.

Step 4: Grease a 9x13 inch baking dish. Combine the meat & vegetables and eggs in the baking dish and stir to combine. Sprinkle remaining ½ cup cheese on top, and bake uncovered for 30-40 minutes at 350 F. Check the dish at 25 minutes to test for doneness: the eggs should spring back slightly, similar to testing the doneness of a cake. Continue to cook until the eggs are cooked through. Tip: use a tester knife or toothpick to insert into the center to check if the dish is cooked through.

Step 5: Once cooked, let cool for about 5 minutes, cut into squares and add any additional garnish you'd like: more sprinkled cheese, jalapeno, green onions, or avocado and enjoy!

Store in an airtight container in the refrigerator for up to five days. This is a great recipe reheated, I like to sprinkle a little more cheese on top when I reheat to get that melty cheesy bite!
Notes
Make Ahead: You can prepare this a day ahead of time, just cover the uncooked dish and pop it in the fridge. Alternatively, you can bake and then cover and refrigerate (up to 5 days) or freeze (up to two months) ahead of time. If freezing, don't worry about thawing, simply cover loosely with foil and bake at 350 F until heated through.

Leftovers: You can freeze leftover slices of this egg bake to be enjoyed at a later date. Cut the casserole into squares, then layer slices between pieces of parchment paper and freeze in a freezer bag or freezer safe storage container. To reheat, microwave in 60 second intervals until warm throughout. They will store in the freezer for up to two months.
Yield: 4
Burger House Skillet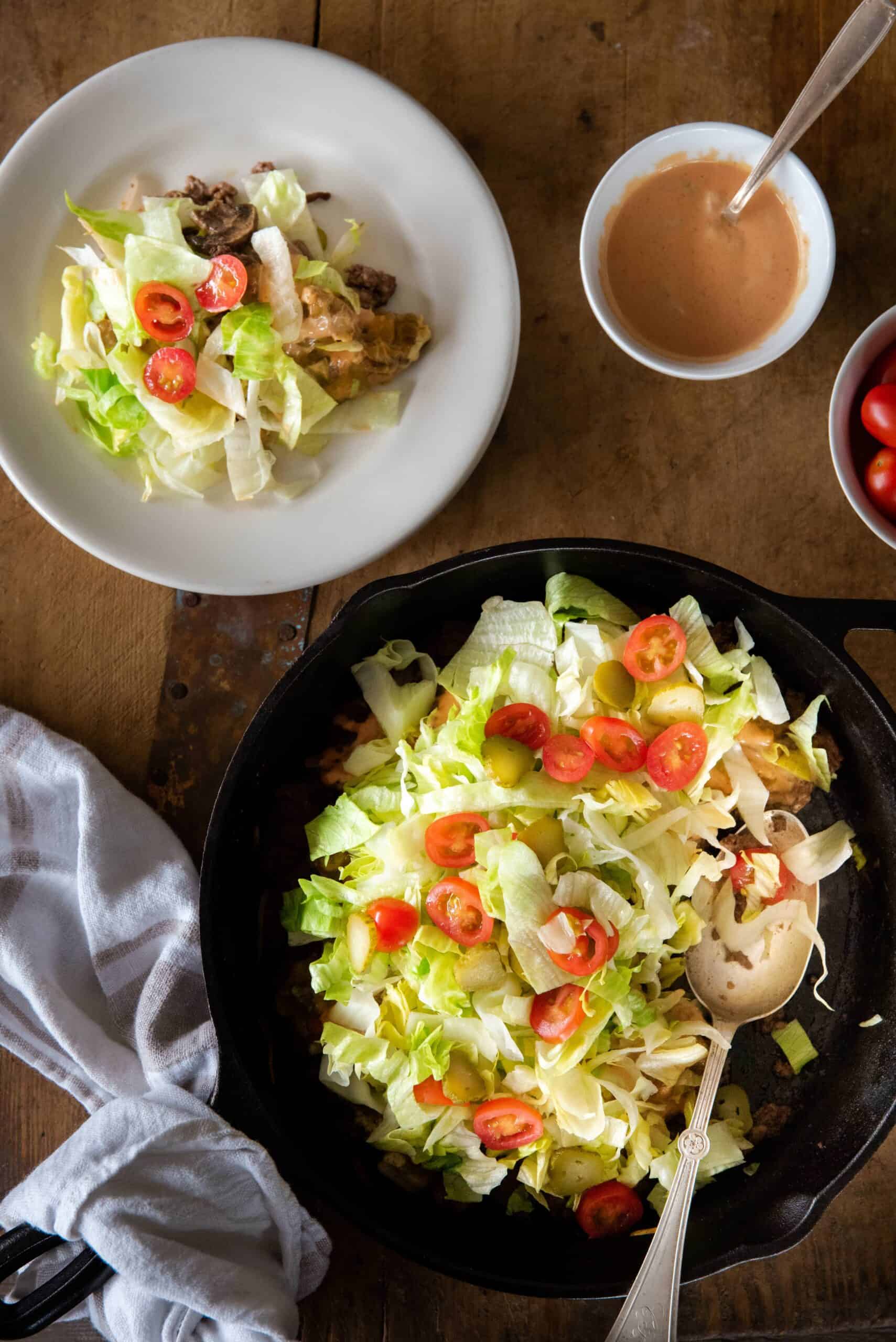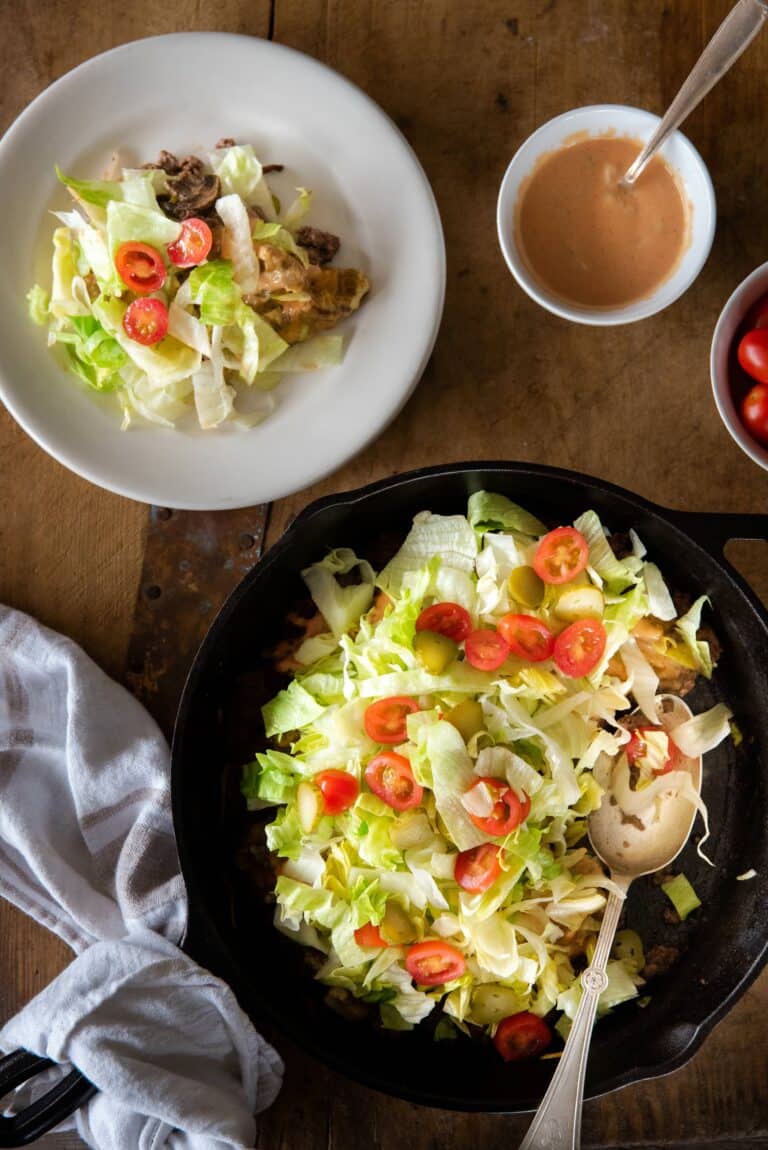 Ingredients
FOR THE SKILLET:
1 lb Ground Beef
½ white onion, thinly sliced 
1 cup mushrooms, thinly sliced
1/2 teaspoon paprika
1 teaspoon garlic powder 
Salt & pepper to taste 
3-4 slices cheese of choice
FOR THE SAUCE:
¼ cup mayo 
¼ cup ketchup 
2 teaspoons mustard
1 teaspoon vinegar 
¼ teaspoon paprika
¼ teaspoon garlic powder
1 heaping tablespoon relish (or 1 finely diced small dill pickle)
Salt to taste 
 
SUGGESTED TOPPINGS:
Sliced dill pickles
Sliced cherry tomatoes
Chopped Iceberg lettuce
Diced avocado
Diced jalapenos 
Instructions
Step 1: Heat a medium cast iron skillet over medium-high heat, add Ground Beef. Using a spatula, break up the beef into small bits. Let cook, undisturbed until the first side is browned, 1-2 minutes.


Step 2: Season the beef with salt, pepper, paprika, garlic powder, and chili powder if desired. Add sliced onion and mushrooms. Reduce the heat to medium, use a spatula to break the beef up into smaller bits and sauté until the onions are soft, mushrooms are tender, and beef is cooked through - about 5 minutes more. Drain off any fat that has accumulated. Turn off the heat, and place 3-4 slices of cheese on top.


Step 3: Place the skillet in the oven using the broil setting until the cheese has melted, 3-5 minutes.


Step 4: Prepare the sauce: combine ketchup, mayonnaise, mustard, vinegar, paprika, garlic powder, relish, and salt in a small mixing bowl. Stir well to combine, and tweak to taste by adding a bit more mustard, salt, or seasoning if needed.


Step 5: Remove the skillet from the oven. Drizzle generously with the sauce. Pile on the toppings, some great options are: iceberg lettuce, pickles, tomatoes, avocado, or jalapenos.

Notes
Make Ahead: Complete up to step 3 and store covered in the refrigerator up to one day ahead of time. Reheat in the oven, covered, at 350 F until the dish is warm throughout. Then follow the remaining steps.

How to Freeze: If you'd like to make this dish to freeze for a later date, transfer the cooked beef with sliced cheese to a 8x8 or 9x9 inch baking dish after step 2. Cover and freeze for up to two months. To re-heat: place the baking dish, covered, in a 350 F oven and cook until the internal temperature reaches 165 F. Uncover and cook for an additional 3-5 minutes until the cheese is melty and slightly golden. Then continue on with steps 4 and 5.
The post Two of My Favorite Ground Beef Recipes appeared first on Boxwood Ave.
This article contains affiliate links. All products are ones I have. If you choose to buy one of these products through the URL provided, I will receive a small commission at no extra cost to you. All proceeds help support the blog.